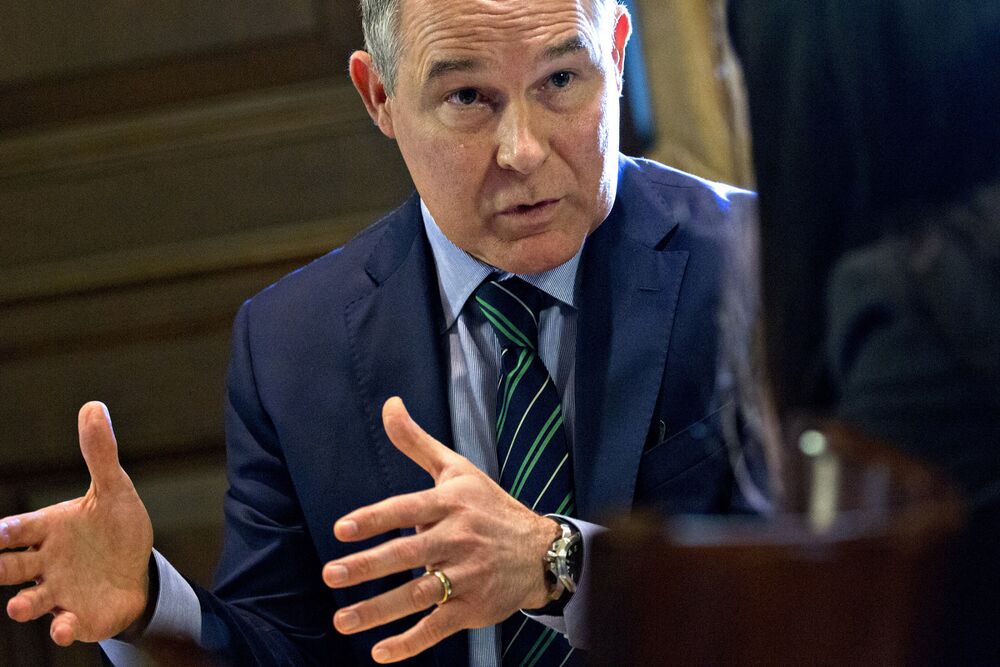 Agency head ordered phone room for his Washington office

Government Accountability Office issues report on spending
The Environmental Protection Agency violated spending laws by installing a $43,000 secure "privacy booth" in the office of Administrator Scott Pruitt, the Government Accountability Office has concluded.
The expenditure violated the Antideficiency Act because it "obligated appropriated funds in a manner specifically prohibited by law," the GAO said in a report made public Monday. It also ran afoul of law requiring advance congressional notification for expenditures of more than $5,000 for improvements to an agency head's office, according to the government auditors.
"Because EPA did not comply with the notification requirement, the funds were not legally available at the time EPA incurred the obligation," the GAO found. "EPA should report its Antideficiency Act violation as required by law."
The soundproof booth cost $24,570 when it was ordered last August from Acoustical Solutions LLC in Richmond, Virginia. But site preparation and construction to reconfigure office space for the booth boosted the overall pricetag. It cost $3,470 to do concrete floor leveling, another $7,978 to remove closed-circuit TV equipment and $3,350 to paint. The total cost was about $43,000.
According to an invoice, the roughly 4-foot-by-4-foot booth built into a storage closet off Pruitt's office was to include "silenced ventilation," a lockable door and an acoustic window meant to keep out sounds. The EPA asked contractors to ensure it could support a 10-pound telephone and a shelf.
"This is just one more example of how Scott Pruitt is blatantly breaking laws and ethics rules that protect taxpayers from government waste, fraud and abuse in order to help himself to perks and special favors –- and taking deliberate steps to hide everything from Congress and taxpayers," said Senator Tom Udall, a Democrat from New Mexico, in a statement.
Udall, the ranking member of the Senate Appropriations Subcommittee on Interior, Environment and Related Agencies, requested the report along with Senator Tom Carper, the top Democrat on the Environment and Public Works Committee, and other congressional Democrats.
Read More: EPA Chief of Staff Approved Raises for Aides, Report Finds
EPA spokeswoman Liz Bowman said the agency "is addressing GAO's concern with regard to congressional notification about this expense and will be sending Congress the necessary information this week."
The GAO's report didn't delve into whether the phone booth was appropriate or necessary; instead, it focused on whether the EPA should have notified Congress before spending the money as required under Section 710 of a government funding bill.
"We recognize the requirement to protect classified material and the need for employees to have access to a secure telephone line when handling such information in the course of conducting official agency business," the GAO said. "After making the required notification, section 710 would have presented no bar to EPA's activities."
The Antideficiency Act prohibits federal agencies expending federal funds in advance or in excess of an appropriation, according to the GAO. Federal employees who violate the law are subject to suspension from duty without pay or removal from office, as well as fines and imprisonment.
The Environmental Protection Agency defended its spending on the project, saying the booth purchase did not violate a prohibition on spending more than $5,000 to furnish or redecorate an agency head's office because it was needed for official agency business. Funding for the project came from an environmental programs and management account — part of roughly $6 million spent annually on operation and maintenance for EPA headquarters.
EPA principal general counsel Kevin Minoli said the privacy booth wasn't designed to "enhance the value of existing office space or to make it better." Instead, he said, it was more like necessary "office equipment," meant to ensure Pruitt "has access to a soundproof area in which he can engage in telephone conversations to facilitate agency business, without concern that classified, deliberative, privileged or sensitive information might inadvertently be disclosed."
The GAO rejected the EPA's justification, calling it "inconsistent with the plain reading" of the federal law. Congress has to be told about an array of expenditures, not just aesthetic improvements, the GAO said.
Read more: http://www.bloomberg.com/